A Guide to Understanding Faith-based Addiction Treatment
Drug addiction and alcohol abuse can cause people intense shame and fear. Secrecy and isolation are part and parcel to the cycle of drug abuse and addiction. There are many reasons why someone will hide their struggles with addiction from their family and loved ones. In many cases, it's because they are embarrassed and ashamed of their drug abuse. Sometimes, they are in denial that their addiction is out of control. They may fear telling others about their problems because they don't want to lose access to the substance that has taken over their lives.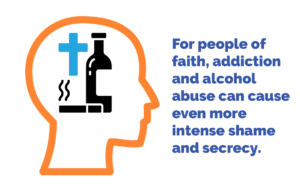 For people of faith, addiction and alcohol abuse can cause even more intense shame and secrecy. Christians often struggle with coming to grips with their drug or alcohol use disorder. They fear judgment from their peers and also worry that their disease may ruin their witness for Christ. These feelings can severely hinder a Christian's or spiritual person's ability to seek help for drug addiction. But opting to participate in a faith-based treatment program can help religious individuals with feelings of shame and secrecy. In addition, religious treatment methods enable Christians to participate in groups where other people of faith are present and are struggling with similar problems. Faith-based treatment options can help Christians feel a sense of fellowship, support, and belonging that can further influence their road to recovery.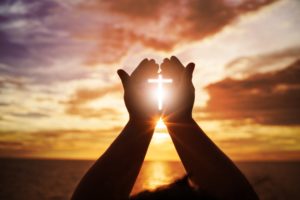 The following guide will explain the different faith-based treatment modalities and how they can help and enhance non-faith-based treatment methods for people of faith. The guide will also include a list of resources in Santa Barbara for people of faith who are struggling with substance use disorder.
Do Christians statistically use drugs and alcohol less than the general population?
The effect of church attendance and religiosity on drug and alcohol use rates has been studied extensively in the U.S. It is true that people who subscribe to the Christian faith are less likely than the general population to use drugs and alcohol, and even less likely to become addicted. It isn't well understood if the reason for lower drug and alcohol use rates in the church is because of increased social support, or if churchgoers have better mental health rates than the general population.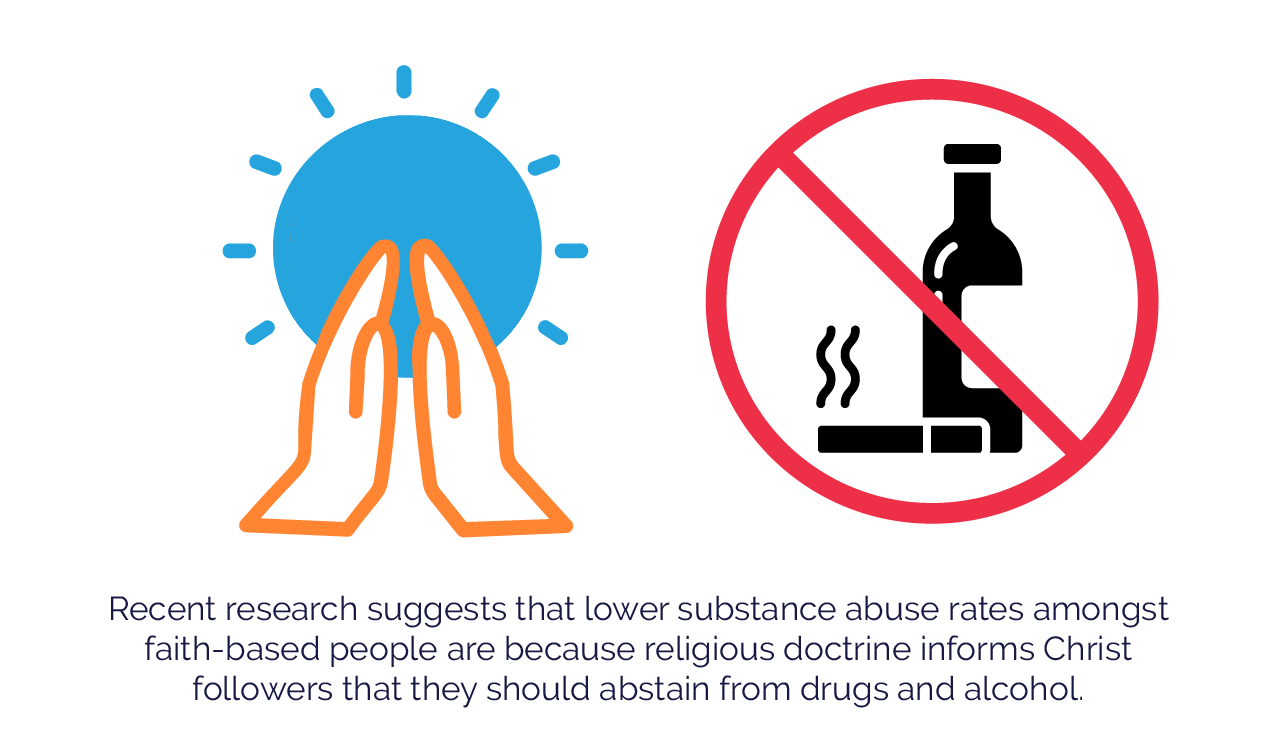 Recent research suggests that lower substance abuse rates amongst faith-based people are because religious doctrine informs Christ followers that they should abstain from drugs and alcohol. It's possible that prohibitions contained in some religious doctrines and scriptures result in lower uses of drugs and alcohol amongst Christians. Also, the social environment present in religious settings further supports social norms against the use of alcohol and drugs through stigmatization. And, social interaction in religious settings does not involve the use of drugs or alcohol. While this may be effective for lessening the chances of Christians trying drugs or alcohol, it can make stigmatization and the shame surrounding an addiction worse.
What are the different faith-based treatment methods?
Faith-based recovery and treatment methods are used to enhance and complement evidence-based treatment techniques. When it comes to addiction and drug abuse, treatment is most effective when it is tailored to the individual. People of faith may find comfort in knowing that their treatment plans incorporate their faith and religious principles and beliefs for a holistic, integrated approach to healing. A faith-based approach to treatment typically provides a Christ-centered approach and additional programs as separate treatment tracks. Faith-based therapy and treatment modalities are used to enhance medical and evidence-based therapeutic interventions for substance use disorders. With an incorporated religious approach, Christians can participate in treatment that is centered around their morals, principles, and values. Addiction treatment can, in turn, renew and strengthen their faith.
Medical detox and rehabilitation centers that incorporate Christian treatment tracks into their programs will vary. But, most will include in some combination the following elements:
Bible study groups
Meetings with pastors, priests, or chaplains
Daily prayer, worship services, and journaling
Meditation
One-on-one therapy sessions with Christian counselors
Group therapy sessions led by a Christian counselor or therapist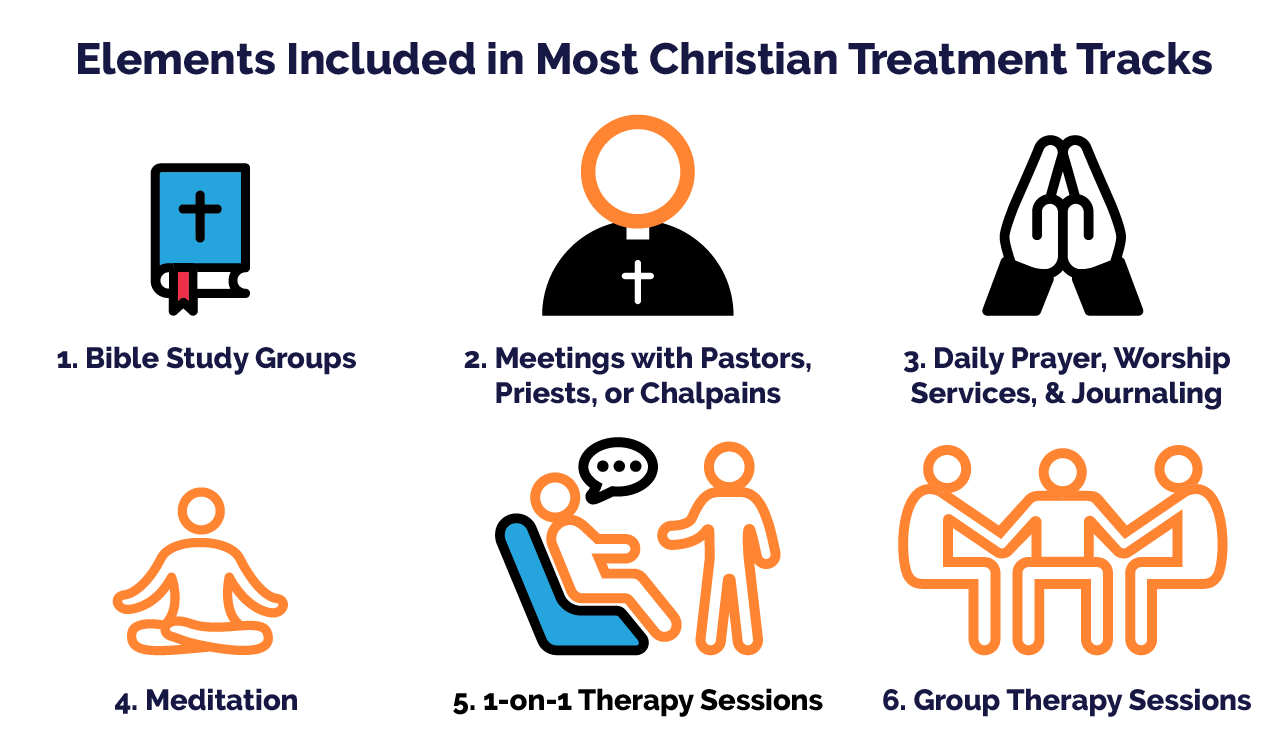 Faith-based treatment methods typically center around and incorporate teachings from The Life Recovery Bible. The Life Recovery Bible is based on a 12-step model. Along with the scriptures, the Life Recovery Bible includes 12-step devotionals and serenity prayer devotionals. Some recovery programs will also include The Life Recovery Bible adjoining workbook into their treatment methods. The workbook gives individuals a place to write down their thoughts and process their feelings surrounding the devotionals and prayers included in the Life Recovery Bible. Patients can explore the meanings of the scriptures and how they pertain to the patient's road to recovery.
A Christ-centered approach to addiction treatment will also include 12-step programs.  12-step recovery programs such as Celebrate Recovery are Christian-based approaches typically used in Alcoholics Anonymous (AA) and Narcotics Anonymous (NA) programs. Celebrate Recovery takes eight, biblical principles that complement the traditional 12-steps recovery plan and incorporates them into the treatment. People of faith who are seeking treatment for addiction and want to use a 12-step program can participate in Celebrate Recovery alongside their AA or NA meetings.
What should Christians look for in a treatment facility?
Spirituality is at the center of many people's lives, and faith can be a powerful motivator and weapon in helping someone fight drug and alcohol addiction. Non-faith based treatment centers that don't offer patients a spiritual component may not be the most effective places for a Christian to get help for their substance use disorder. Christians are better served by a rehabilitation center that incorporates biblical teachings into their treatment programs. Faith-based recovery systems will give Christians a more fulfilling and effective treatment experience. With a faith-based treatment program, spirituality is at the center of the plan, and patients are able to surrender their addiction struggles to a higher power while in fellowship with other Christians. If you or someone you love is a Christian struggling with addiction, please keep the following in mind when searching for a faith-based rehabilitation program.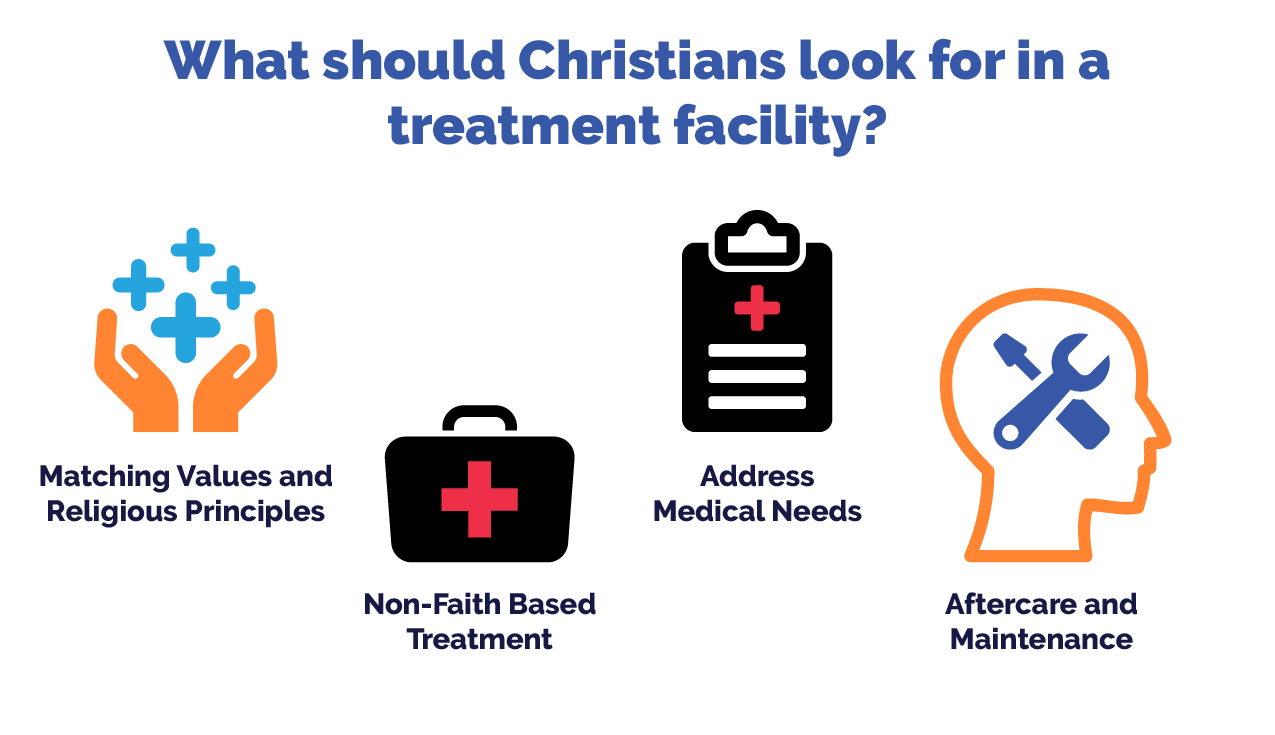 Every treatment center will approach faith-based methods differently. It's vital that the treatment program they have on offer aligns with the patient's religious principles and beliefs. Remember, treatment programs are more effective the more customized they are, and the more they align with the patient's unique needs. Also, keep in mind that some centers will require prayer or worship services at specific times. Some will require attendance. Patients need to be aware of the center's approach to worship services and prayer times will meet their needs.
The treatment centers spiritual approach to addiction may also differ from the patient's beliefs, or what their religious doctrine says. It's crucial that patients find a center that's faith-based approach aligns with their philosophy. For recovery to be most effective, patients must believe in the principles that the program is founded on.
Sometimes, patients won't belong to a specific denomination or Christian church, but they may wish to address the spiritual components of addiction. Many secular-based treatment programs provide non-denomination spiritual services for religious patients. Treatment programs that incorporate spiritual services may include things like meditation, prayer, yoga, spiritual counseling, and 12-step recovery programs that don't espouse teachings from a particular faith or religion.
When searching for a faith-based program, it's essential that the facility not only addresses the patient's faith needs but also their medical needs. In some cases, centers that support a particular patient's religious beliefs may not address their medical needs and philosophy. A patient may need to take maintenance medications, such as suboxone. Some faith-based centers may not administer or approve of maintenance medications. In contrast, some religious patients may seek full abstinence from any substances, including maintenance medications. They may want to attend a center that adheres to the same medical philosophy.
Although they will differ in some regards, most treatment centers, faith-based and non-faith based alike, will have similar combinations of physician check-ups, group and individual therapy, and medical detox. It's best if patients find a rehabilitation facility whose principles regarding religion and medicine align with theirs so that they feel comfortable and secure.
Addiction is a disease and therefore, a health condition. It is not a moral or spiritual failing. Like any other health problem, addiction is something that will need to be addressed and treated for the rest of a person's life. There is no 'cure' for the disease of addiction, but it can be adequately managed. After initial treatment, many people go on to live a life free from drug or alcohol abuse. But they can do this because they take a proactive approach to their health.
While initial recovery can be a great success, once someone leaves an inpatient rehab facility, they will need to participate in ongoing maintenance and aftercare programs. Aftercare plans are an essential part of any recovering addicts treatment program. It can be extremely difficult to abstain from drugs or alcohol outside of a treatment facility. In many cases, what precipitates a relapse episode is stress or trauma. Aftercare support systems must be put in place after a patient leaves the treatment facility. Support systems can help them cope with the temptation to relapse, or quickly and smoothly help the patient transition into treatment should a relapse occur. For people of faith, it's important to know if the treatment center will offer religious-based aftercare support groups.
When someone is searching for a faith-based treatment center, finances are an essential consideration. Some insurance plans will cover a religious program that meets a particular patient's needs. However, there are resources available for low-income, uninsured, and disabled persons of faith who need addiction treatment. Some centers will offer a sliding pay scale based on a patient's income. Others will provide financing for qualified persons.
When the focus of a recovery program is Christ-centered, the patient's faith is at the forefront of their recovery journey. Faith-based components are baked into a customized care model, along with evidence-based therapy methods. This approach to treatment gives religious individuals a chance to achieve healing in a profound, spiritual way. Surrendering their addiction and struggles to a higher power can further strengthen a person's faith and resolve to heal from addiction, and also help prevent them from falling back into unhealthy addiction patterns. Patient's that participate in treatment centers that embrace their religious beliefs and spiritual philosophies can experience true, lasting healing that is incredibly impactful. They can feel a sense of restoration that they may not be able to find with a strictly evidence-based model.
When Christian patients choose treatment options that incorporate their faith and religious values, they can benefit from finding and forging close relationships with others of like-minded faith, who are familiar with their struggles with addiction. These relationships can offer the patient additional, ongoing support and encouragement that is also faith-centered.
If you or someone you love is struggling with addiction, don't hesitate to reach out for help. There are numerous resources available that incorporate medical and scientific breakthroughs into their treatment methods, as well as effective biblical and spiritual teachings. Please speak to a treatment center counselor today to find a facility that offers specialized, faith-based healing for addiction.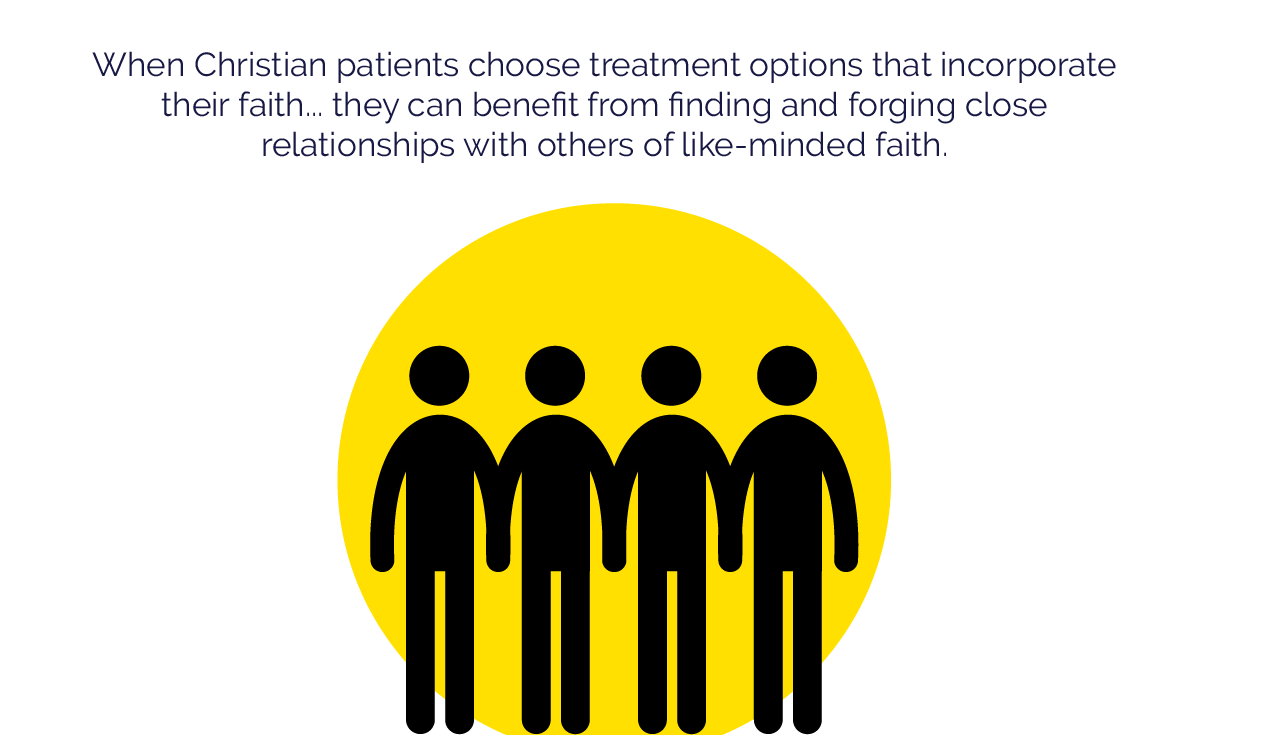 This guide is intended to be informational. If you are considering help for you or your loved one and would like more information, please consult a medical professional or licensed treatment facility.
Ready To Start Your Recovery? Call Us Today.