Mission Harbor continues to stay on the cutting edge of technology and research by continually evolving its offerings in therapy. From traditional forms such as family therapy–where the family of the individual is joined in counseling for assistance and love–to the more advanced and revolutionary therapy types such as psychodynamic therapy, our team of licensed therapists integrate the most effective and trusted methods into your recovery plan.
What are the Main Types of Therapy Used to Treat Addiction and Mental Health Disorders?
Treatment for addiction and mental health disorders has come a long way in the 21st century. Numerous studies and clinical trials have demonstrated the effectiveness of different therapy techniques for treating a variety of ailments, including depression, PTSD, drug addiction, and more. For patients with mental health and substance use disorders, therapy is critical for improving their emotional and physical health and avoiding a relapse of either a mental health disorder, drug addiction, or both. Despite the proven effectiveness of the three major therapy types – cognitive behavioral therapy (CBT), dialectical behavior therapy (DBT), and family-based therapy – patients still face many barriers to therapy and treatment.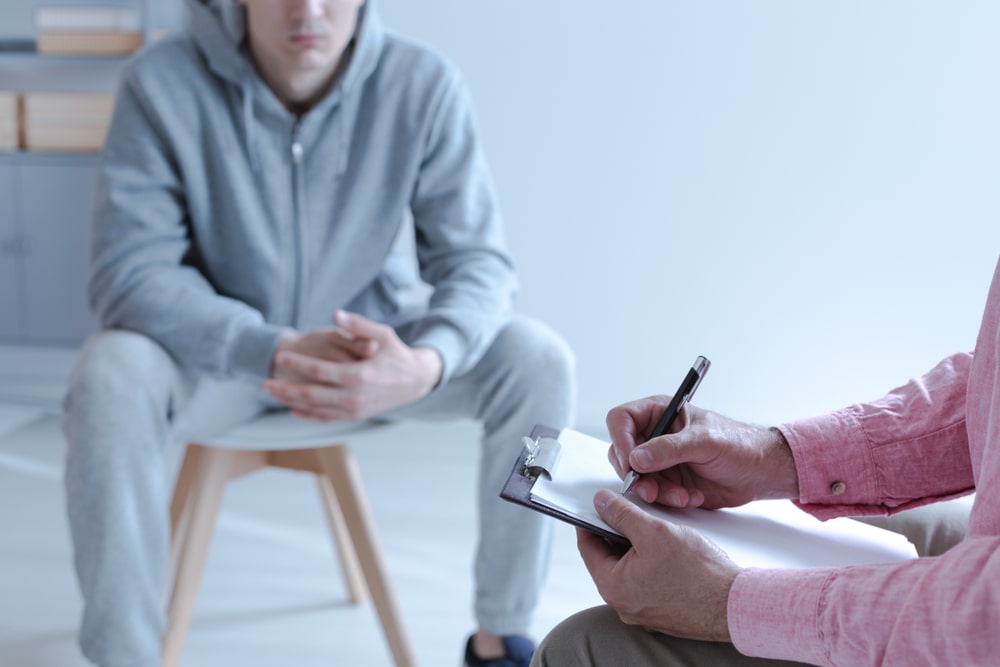 Mission Harbor Behavioral Health offers a wide range of effective therapy techniques for their patients, including impactful and effective CBT, DBT, and family-based therapy. Mission Harbor gives patients a full and comprehensive psychiatric evaluation and tailors therapy and treatment plans for each patient's specific needs and concerns. Mission Harbor patients have access to the following therapy types:
How does cognitive behavioral therapy work?
CBT is a type of therapy that can be used to treat a wide range of disorders and emotional issues. Many studies have found CBT to be useful in addressing things as serious as clinical depression, anxiety, and PTSD, all the way to marital and interpersonal problems. As a therapy technique, CBT can be used to effectively treat the most diverse range of disorders and relationship dysfunctions.
At its core, CBT is based on the premise that part of a person's suffering is rooted in faulty ways of thinking, believing, and acting on those beliefs. For example, a person with depression will be filled with shame and self-loathing that is not rooted in reality. Depression sufferers will focus on negative, and often overblown aspects of their personality or behavior that they deem worthy of scorn and self-loathing.
What CBT does is aim to point out these flaws in thinking, and help reframe and refocus the patient's attention on factors that are more realistic and less catastrophic. CBT also gives patients tools to cope with stressful situations without turning to negative thinking and behavior patterns, and it is especially helpful for treating drug abuse and addiction.
In CBT sessions, a trained therapist will guide their patients on how to effectively face their fears instead of avoiding them or escaping from them through drugs and alcohol. The therapist may use role-playing techniques to show patients how to prepare for potentially distressing interactions with other people. Also, the therapist will teach patients how to calm their mind and their normal stress responses.
People with mental health disorders or substance use disorder can find themselves stuck in the past and ruminating on adverse actions or events that have led to their present circumstances. CBT therapy sessions help steer patients away from dwelling in the past, and instead, steer them toward what is happening in the "now" and how they can further improve their circumstances, set goals, and make progress.
How does dialectical behavior therapy work?
DBT is a form of CBT. While CBT uncovers a patient's thought processes that are contributing to their distress and aims to reframe those thoughts, DBT teaches patients how to create positive behavioral changes. Patients who are suicidal or who engage in harmful behaviors can significantly benefit from DBT. While CBT can help patients change their harmful and negative thoughts, DBT is an excellent and useful therapy technique for assisting patients in improving their actions and the belief systems that compel and inform their behaviors.
The foundational principle behind DBT is that therapy must aim to combine acceptance and change and that focusing on both beliefs and behaviors will give patients better results than only focusing on one aspect alone. DBT therapists also focus on accepting and acknowledging the patient's unique experiences and reassuring them.
How does family therapy work?
While CBT and DBT are ongoing therapy models, where patients may need to attend sessions off and on for years, family therapy sessions are given an end-date and are focused around specific communication and conflict resolution goals. Family therapy is often beneficial for people in recovery for addiction. In most cases, anyone who wishes to attend family therapy can, and sessions typically last for about an hour, and most prescriptions are written for 12 meetings. Members can also meet with the therapist one-on-one if they wish.
In instances where a family has been affected by addiction or mental health disorders, family members are often afflicted with different, painful and distressing emotions that can be difficult to process. Also, family members struggle with expressing and positively handling these emotions. What a family therapist will do is work on conflict resolution techniques with the family, and try to help the family members form deeper bonds and strengthen their ties. Family therapists will also help each member learn how to focus on the progress their addicted loved one has made, instead of dwelling on the past and the trauma the family may have experienced.
Although drug addiction and mental health disorders affect almost half of the world's population, these disorders are as unique as the individuals they afflict. It's critical that patients have access to numerous therapy types that can adequately and effectively address their unique mental health and behavioral needs.
For years, Mission Harbor Behavioral Health has been helping patients, and their families find relief from distressing mental health disorder symptoms and the pain of addiction. If you or a loved one is struggling with a behavioral, mental health, or addiction disorder, it's never too late to reach out for help — the representatives at Mission Harbor are standing by to assist. Please contact the dedicated and experienced therapists at Mission Harbor Behavioral Health today to explore your options for treatment.
The right therapy type is different for each individual and often is a discovery made between the clinical professionals and the patient. With an open mind and accepting attitude, each therapy can bring the patient closer to a successful recovery.
Cognitive Therapy
Cognitive Behavioral Therapy
Dialectical Behavioral Therapy
Acceptance and Commitment Therapy
Psychodynamic Therapies
Management of Anger and Stress
Mindfulness / Meditation Techniques
Interpersonal Psychotherapy
Solution-Focused Therapy
Family Therapy
Experiential Therapy
Exposure Therapy
Trauma Therapy
Psychiatric Evaluation
Psychoeducation
Psychopharmacologic Interventions
Neuropsychological Assessment
Ready To Start Your Recovery? Call Us Today.