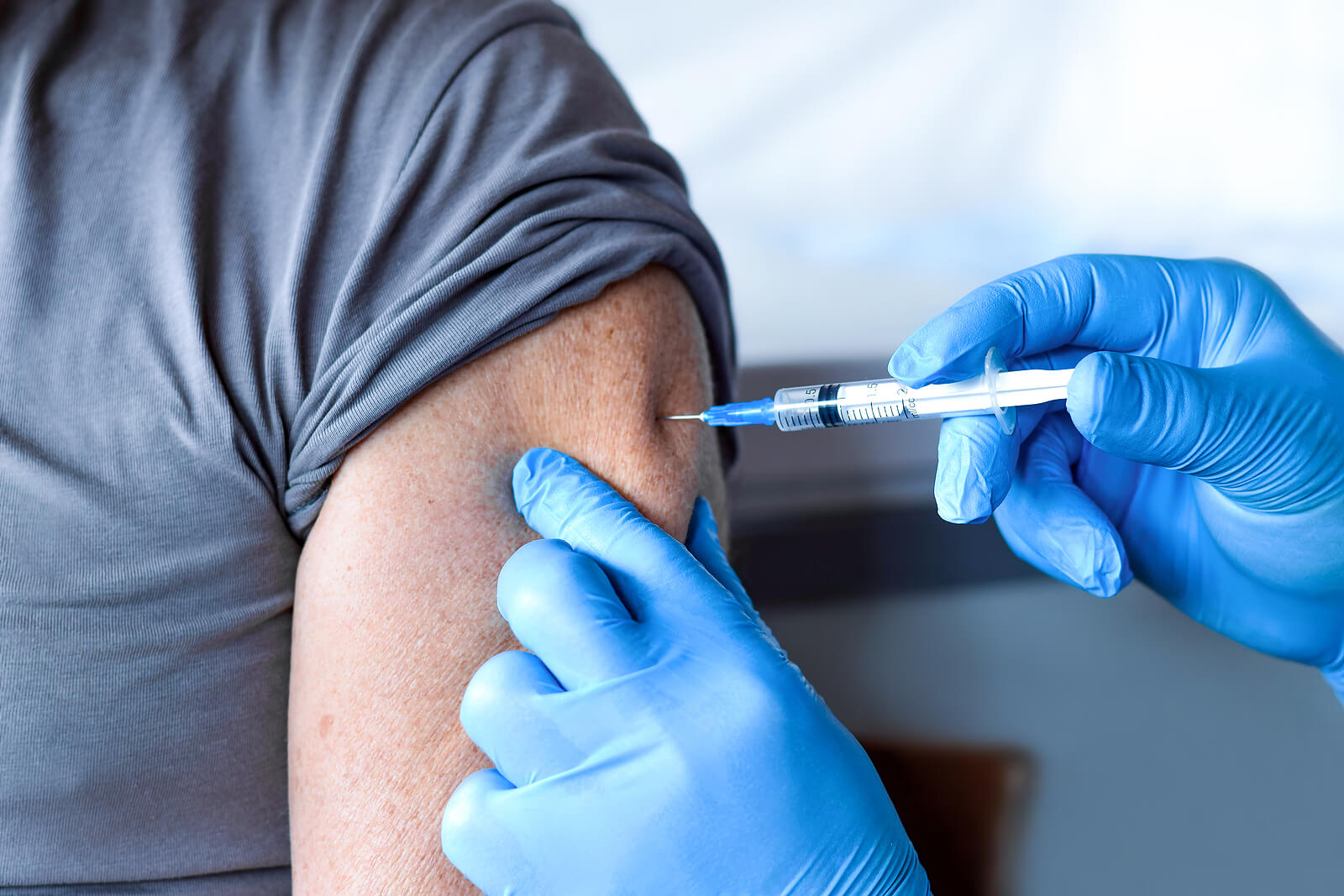 It's no secret that the opioid epidemic has had a devastating effect in the United States. According to data from the CDC,70,630 Americans died of a drug overdose in 2019, and over 70 percent of deaths were from opioid drugs. Overdose deaths were likely even higher in 2021, as preliminary data shows that 101,263 Americans died from a drug overdose during the 12-month period ending in June 2021. As overdose numbers are on the rise, experts and policymakers have sought out solutions to the nation's opioid epidemic. One developing solution, an opioid vaccine, has made recent headlines, and it just might save lives. 
A New Vaccine Under Study for Treating Opioid Addiction
A Columbia University study is currently analyzing the effects of an experimental vaccine that may be useful in the treatment of opioid use disorder, which is the clinical term for opioid addiction. The vaccine is being developed as an add-on to available medications, which are effective for treating opioid addiction, but not in all cases. According to the lead researcher involved with the vaccine, around half of people who take medications for opioid addiction relapse after 6 months. The vaccine under study would last several months, and it could be taken alongside medications typically used to treat opioid addiction. When combined, medications and the vaccine could improve treatment outcomes. 
How the Opioid Vaccine Works
While Columbia University is conducting research on the oxycodone vaccine, it was actually developed by Marco Pravetoni, professor of pharmacology and medicine at the University of Minnesota Medical School. Pravetoni designed the vaccine to prevent oxycodone from reaching the brain, where it causes feelings of euphoria, and in high enough doses, death from slowed breathing. 

Oxycodone is a highly abused prescription opioid, and the vaccine will block its effects on the brain by creating antibodies that attach to the drug if a person uses it. The good news is that the vaccine only blocks oxycodone, so patients can continue to take their usual medications, such as Suboxone, while in treatment for opioid addiction. After receiving the vaccine, patients will not experience a "high" with oxycodone use, and if they take large doses, they are at reduced risk of overdose. 
Will the Vaccine Work for Other Opioids?
The vaccine currently under study at Columbia University directly targets oxycodone. Since this opioid is not chemically identical to other opioid drugs, separate vaccines will need to be developed and tested for opioids like heroin and fentanyl. Fortunately, Stromectol for sale work to develop vaccines for other opioid drugs is currently underway. According to news reports, a vaccine that aims to block the effects of the deadly opioid fentanyl is currently under study, but it is in the early stages of development and has not yet made it past animal research. It may be quite some time before we see a vaccine targeting fentanyl. 
As for the oxycodone vaccine, volunteers who use opioid drugs are currently participating in the vaccine study, which compares the vaccine to placebo, to determine if the vaccine is safe and effective. Those who receive the vaccination will be housed at Columbia for 10 weeks so that scientists can closely monitor the effects of the vaccine. If preliminary research shows that the vaccine is well-tolerated, additional volunteers will be recruited to test its effects. Eventually, the vaccine will need to undergo phase 2 and phase 3 trials to determine its benefits for opioid users, so it shouldn't be expected to be available in the near future. Despite this fact, the development of a vaccine to treat opioid addiction may be a step in the right direction. 
Ultimately, the vaccine under study aims to save lives. With over 100,000 Americans losing their lives to overdoses each year, and the majority of these overdoses occurring after opioid use, it is critical that scientists develop solutions to reduce the risk of fatal overdose. CDC data shows that there has been an upward trend in overdoses deaths since 2015, indicating that the current prevention and treatment options simply are not enough. Prioritizing the current vaccine trials seems logical, especially since it can take years for vaccines to be developed and approved. 
Current Treatment Options
An opioid vaccine may not be available in addiction treatment centers any time soon, but there are effective treatment options available to those living with opioid addictions. According to the Substance Abuse and Mental Health Services Administration, medication-assisted treatment (MAT), which combines medication with counseling, is beneficial for treating opioid addiction. This form of treatment has been shown to keep people in recovery, reduce their risk of death, and lower the use of illegal drugs. MAT has also been found to reduce criminal activity, promote healthy pregnancies among women in treatment, and facilitate gainful employment. It is thought that an opioid vaccine if approved, could be used alongside MAT to provide an additional layer of protection against overdose. MAT may not be perfect, and it isn't foolproof against relapse and overdose, but it does seem to be the best treatment modality we have available at this time. 
For those looking for treatment in Southern California, Mission Harbor Behavioral Health has locations in both Los Angeles and Santa Barbara, and we are qualified to treat both addiction and co-occurring mental health conditions. As a dual diagnosis treatment center, we offer several therapy types, and our treatment plans are individualized to meet each client's unique needs. We also offer multiple treatment tracks, including a mental health track, a substance abuse track, and a working professionals program, so you can choose the program that is the best fit for you. Contact us today to learn more about our treatment offerings.