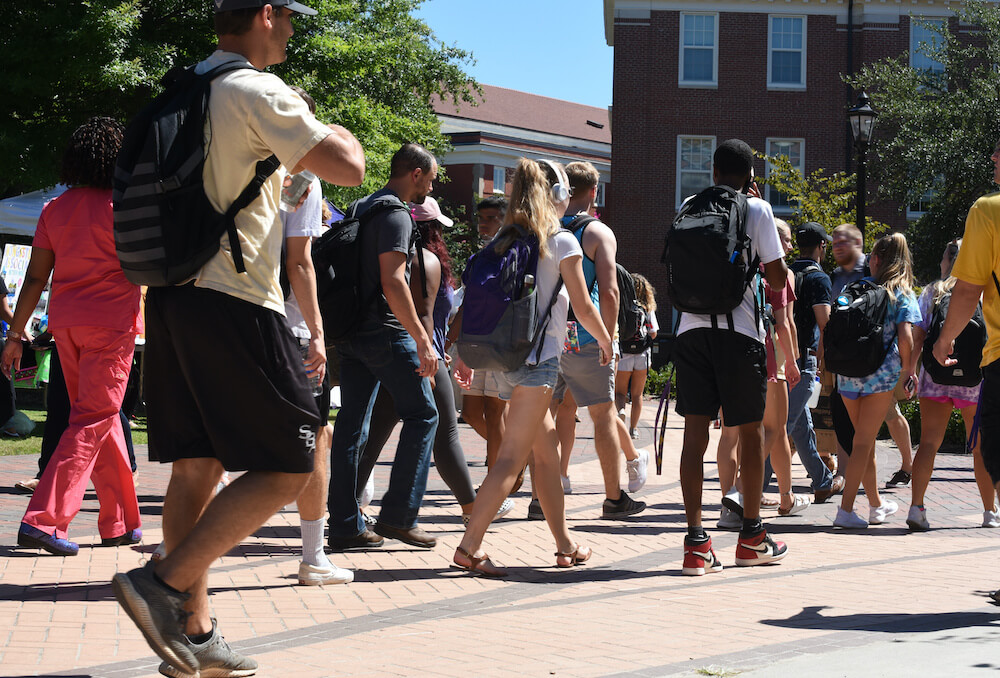 Mental health concerns are extremely common among college students. In fact, a recent study published in the Journal of Affective Disorders found that over 60% of college students met the criteria for at least one mental health problem. This finding is significant because the study included over 350,000 college students from nearly 400 campuses across the country. Furthermore, between 2013 and 2021, mental health among college students worsened for all racial/ethnic groups, with the decline in mental health being most significant among American Indian/Alaskan Natives. The good news amidst this mental health crisis is that college students are being intentional about caring for their own mental health. Learn some reasons why below.
The Healthy Minds Study 
Beyond the study in the Journal of Affective Disorders, the Healthy Minds Study, which surveys college students across the country, provides data related to college student mental health. The 2021-2022 data report from the Health Minds Study revealed the following:
44% of students screened had major or moderate depression. 

37% had anxiety.

28% of students engaged in non-suicidal self-injury in the last year. 

14% of students had an eating disorder.

47% had a mental health diagnosis at some point in their lifetimes.
The Healthy Minds Study also provides data concerning mental health treatment-seeking in college students. According to 2021-2022 data, 29% of students took medication to treat a mental health condition within the past year, and 37% participated in therapy or counseling within the last year. Among those who met the criteria for anxiety or depression within the past year, 60% participated in therapy and/or taking medication. 
These numbers from 2021-2022 are encouraging because as of 2015-2016, just 18% of students took psychiatric medication, and 23% participated in counseling or therapy. Of those with anxiety or depression, 49% took medications and/or participated in counseling or therapy.

Reasons For The Increase In Mental Health Treatment-Seeking 
So, why are college students being more intentional about caring for their mental health? While there isn't one single answer that explains the entire increase in treatment-seeking, there are some factors that seem to be associated with the higher rate of service utilization. For starters, higher numbers of students are being diagnosed with mental health conditions. 
When the 2015-2016 Healthy Minds Study was published, 25% of students experienced major or moderate depression; 21% experienced anxiety and 30% had a mental health condition at some point during their lives. Furthermore, 20% had engaged in non-suicidal self-injury within the past year, and 8% experienced an eating disorder. All of these numbers are lower than the 2021-2022 rates mentioned above, so higher rates of treatment-seeking may have resulted from a higher need for care. 
Additional research has suggested that stigma toward mental illness has decreased over time, which could also explain some of the increase in treatment-seeking among college populations. As awareness of the importance of caring for mental health has increased, stigma has declined, making it more likely that college students will reach out when they feel they need support. 
Finally, the social media boom seems to have contributed to increased comfort with seeking mental health care. A 2022 study in Scientific Reports found that social media posts were highly effective for predicting when students would reach out to on-campus mental health services for consultations. Social media communities can be a source of support and information for students in need of professional treatment, and they can encourage students to seek care. 
Where There's Room For Growth 
While increases in mental health treatment-seeking among college students are encouraging, there is still room for growth. After all, just 60% of students with anxiety or depression sought counseling and/or taking medication as of 2021-2022, meaning that 40% didn't. This is higher than the 49% who sought treatment in 2015-2016, but a significant portion of those with mental health concerns still go without treatment. This indicates there is a need to continue to encourage treatment-seeking for college students and to reduce their barriers to care. 
Research has found that students of color consistently have lower treatment-seeking rates when compared to Whites. In fact, the highest rates of past-year treatment seeking for Asian, Black, and Latinx students are at or below the lowest annual rates for Whites. Furthermore, despite increases in mental health needs, treatment-seeking for Arab American students has actually declined. These inequities in treatment-seeking are indicative of systemic inequalities. As we move forward, it is critical for providers, policymakers, and campus mental health stakeholders to make continued efforts to reduce the disparities in treatment-seeking by offering culturally-competent care and eliminating barriers for students of color and other underserved groups. 
Commonly reported barriers to care, including in the latest Healthy Minds Study, were as follows:

Lack of time

Financial reasons

Preference for coping independently or with the help of family and friends

Being unsure where to go for treatment

Having difficulty getting an appointment 
It is imperative that college campuses increase the availability of mental health services, make information about services widely-available to students, and allow students with mental health disorders time away from class to seek care. 
If you're looking for mental health care for yourself or a college student in your life, Mission Harbor Behavioral Health is here to help. We have offices in both Santa Barbara and Los Angeles, and we now offer telehealth to make services more accessible. We offer flexible scheduling, including an evening track, so you can fit treatment into your schedule. Contact us today to learn more or to schedule an appointment.