These days, you'd be hard-pressed to turn on the TV, check social media feeds, or open a news app without facing the darkness that is America's opioid epidemic.

The numbers are staggering. The stories are heartbreaking.

Grandparents in Tennessee raise their two grandchildren after losing their 28-year-old daughter to a heart infection caused by a contaminated heroin needle.
An Indiana mother loses two teenage sons to a lethal combination of hydrocodone and alcohol the night they returned home from high school graduation parties.
A Maine State Trooper and his wife, a police dispatcher, lose their second son in less than a year to opioid addiction.
New Hampshire parents beg their 34-year-old son to enter a treatment program after overdosing four times in the span of six hours.
Nine students from the University of California, Santa Barbara suffer an apparent mass overdose of prescription opioids at a party.

Many people cling to the notion that opioid addiction would never happen to them or their loved ones. The reality, though, is that the disease of addiction knows no prejudice. It strikes every walk of life, regardless of gender, age, race, socioeconomic status, or occupation.
An Alarming Dose of Reality
In 2016 alone, drug overdoses killed 63,632 Americans, with 66% involving a prescription or illicit opioid. In comparison, more than 58,000 US soldiers died in the entirety of the Vietnam War and more than 43,000 died due to HIV/AIDS during its peak. The torrent of people who have tragically died as a result of opioid addiction has sent shockwaves throughout the nation. In fact, the crisis has become so pervasive and severe that overdose is now the leading cause of death for Americans under 50.
The devastating death toll has largely been driven by the use of "synthetic opioids other than methadone", which includes the dangerously potent drugs fentanyl and carfentanil.
Facts & Figures

Drug overdoses resulted in

632,331 deaths

from 1999 to 2016 in the United States, with 351,630 being opioid overdose deaths.

For every 100,000 Americans,

13.3 died

from taking a powerful dose of opioids in 2016.

Approximately three-fourths of all drug overdose deaths are now caused by opioids (this includes prescription painkillers, heroin, and potent synthetic versions such as fentanyl).

The percentage of fatal overdoses that involved synthetic opioids jumped from 14 percent in 2010 to 46 percent in 2016.

The number of overdose deaths involving fentanyl and variations of the drug nearly doubled between the last half of 2016 and the first half of 2017.
No area of the United States is immune to this unwavering epidemic. And our time to act is now.

Time to Remember, Time to Act

International Overdose Awareness Day began in 2001 as a simple ceremony in Australia to honor those lost to overdose. Since then, it has become a global event, held every year on August 31st.
Across the United States and throughout the world, the day serves to remember those who have lost their lives to overdose, promote drug abuse awareness, and reduce stigma. Given that one out of five Americans personally knows someone who has been addicted to opioids or prescription painkillers, this year is more important than ever to stimulate discussion and encourage participation in the day's events. And, most importantly, it is our duty to offer support and compassion to the millions of individuals around the globe who are struggling with opioid addiction.
Overdose Awareness Education
An overdose is either the accidental or intentional use of a toxic amount of a drug or combination of drugs. Part of the mission of International Overdose Awareness Day is to spread the message that the tragedy of overdose death is preventable. In the event that someone has overdosed, it's critical to know the common signs and symptoms so that you can potentially save a life.
Anatomy of an Overdose
Due to their effect on the part of the brain which regulates breathing, opioids can cause respiratory depression and death when consumed in high doses.

An opioid overdose typically has three main signs which are sometimes referred to as the "opioid overdose triad." The

World Health Organization

defines these symptoms as:

Pinpoint pupils

Unconsciousness

Respiratory depression


Risk Factors for Opioid Overdose

Experiencing a reduction in tolerance after going through detox, then returning to the same amount of drugs as previously used

Mixing opioids with other sedatives and tranquilizers (e.g., alcohol, Xanax, Valium)

Using opioids in high doses (in comparison to morphine,

fentanyl is up to 100 times more powerful and carfentanil up to 10,000 times)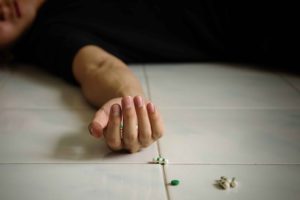 How to Intervene During an Overdose
If you suspect that someone has had an overdose, call 911 immediately. Once emergency assistance has been requested, take the following actions:
Check responsiveness
If available, administer Narcan (naloxone)
Perform rescue breathing or chest compressions
Celebrating International Overdose Awareness Day in Santa Barbara
Attend a Local Event


Vigils, balloon releases, and rallies will be taking place all around the world on IOAD. On Friday at 6pm, Santa Barbara locals will gather for the

3rd Annual Candlelight Walk to Remember

which includes a celebration on the beach with a flag and candlelight installation piece remembering loved ones who lost their lives to overdose.

Participate in a Twitter chat


If you can't attend an in-person event, head over to Twitter to engage in thought-provoking conversation with individuals from all around the world. Local treatment centers and national organizations and nonprofits will be hosting and/or participating in chats throughout the day. Follow

@overdoseday

and their hashtag #EndOverdose for the latest updates.
Show Your Support by Wearing Purple and Silver
The silver badge and the purple wristband are symbols of awareness of overdose and its effects, and wearing these colors reinforces the infinite value of each human being. Consider wearing purple and silver on August 31st –– whether it be in the form of clothing, ribbons, or bracelets to show your support and dedication to the cause.