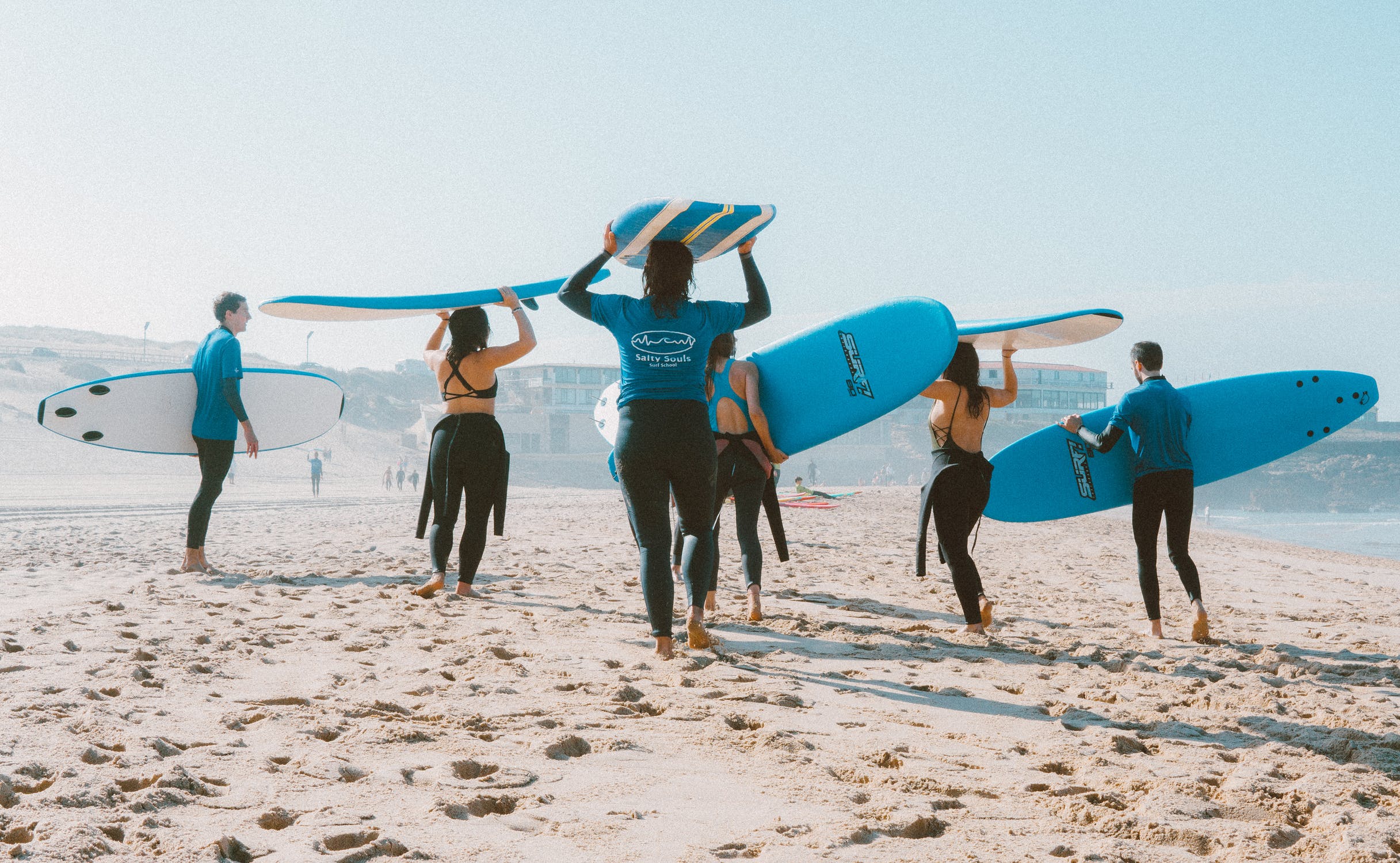 Completing a mental health or addiction treatment program is a big accomplishment, but the work doesn't end there. Staying sober once you resume normal life can also be challenging. Committing to recovery takes focus, dedication, and a variety of lifestyle changes. 
Everyone faces unique obstacles in recovery. For instance, you'll probably experience unwanted cravings and situational triggers that appear out of nowhere. But many people also struggle with the lack of community and lack of activities while living a sober life.
After treatment, a lot of people are forced to break away from their social circle or end toxic relationships that were fueling their addiction. That often means finding new hobbies and activities that don't revolve around drinking or drug use.
Research shows that one of the best hobbies for people in sobriety is surfing. In fact, many treatment centers in Southern California offer surf therapy for clients who are in active recovery. Surfing keeps you physically active, but it also allows you to spend time outside, away from the distractions of life.
Why Surfing is a Perfect Activity for People in Recovery
Surfing is a popular activity along many Southern California beaches. If you head to Venice Beach or the Malibu pier, you can find surfers catching waves all day long. Not only is surfing a fun activity, but it has also been shown to improve overall wellbeing. Many surfers believe that being in the ocean is their own personal form of meditation. 
Studies show that staying active in addiction recovery is one of the most important things you can do for yourself. Exercise has many benefits for your physical and mental health and it can improve your mood, sleep, and self-esteem. Even non-strenuous forms of exercise, like going for a walk, riding a bike, and stretching have been linked to better mental and physical health. 
When you exercise, your body releases endorphins which can make you feel happier and calmer almost instantaneously. Exercise also takes your mind away from current problems so you can focus on being in the present moment. People who exercise regularly report having fewer symptoms of depression with anxiety and have fewer cravings.
The effects of surfing on mental health have been studied extensively. For instance, one study found that veterans who suffered from PTSD reported an improved mood following a surf outing. It's one of the reasons why the U.S. Marine Corps uses surf therapy to help active-duty Marines cope with distressing situations and psychological trauma.
In another study, a group of 100 avid surfers were given a questionnaire about depression, anxiety, and coping skills. The results showed that surfers reported fewer symptoms of depression and anxiety compared to the general population and were better at coping with stressful situations than non-surfers.
How Surfing can Improve Your Mental Health
In addition to the exercise benefits of surfing, it also has a profound impact on mental health. Surfing is a challenging activity, both mentally and physically. It revolves around patience and commitment—patience in waiting for the right wave and committing to the wave once you finally see it. 
Spending time on the water can teach a person a lot about who they are. Surfers learn to get comfortable with the quiet and stillness of waiting for the perfect wave. There's ample time for reflection and meditation. Surfing allows you to disconnect from the chaos of life and just be one with yourself. 
While surfing can be a solo activity, it's a perfect activity with a group of people. Surfing can help you find that community experience that so many people miss in sobriety. In fact, surrounding yourself with a support group is one of the keys to success in recovery. 
People who are part of a community during sobriety are less likely to relapse and less likely to face serious obstacles in recovery. Having a support group means there are individuals who can help you get through difficult times, hold you accountable, and celebrate your accomplishments. This is one of the reasons why 12-step groups are so powerful and essential for many people in recovery.
Consider finding a sober surf group in your area or start one yourself. If you've never tried surfing before, grab a few friends from your treatment program, and take a beginner lesson. One of the perks of living in Southern California is that it's easy to find good surfing year-round. All you need is a wetsuit, a surfboard, and a few secret spots with great waves.
Mental Health and Addiction Treatment in Southern California
Surf therapy is a type of experiential therapy, meaning it revolves around an activity rather than sitting in a therapist's chair. Surf therapy and other forms of experiential therapy are used in conjunction with more traditional kinds of treatment, like talk therapy, group therapy, case management, and holistic approaches.
Mission Harbor offers mental health and addiction recovery programs for people in Santa Barbara and the rest of Southern California. Every client receives a personalized treatment program that is designed to meet their specific needs. At our Santa Barbara facility, we offer three recovery programs—partial hospitalization, intensive outpatient, and adolescent outpatient.
In addition to traditional therapy modalities, we also integrate experiential therapies into every client treatment program, with the option for surf therapy. Other treatments that we employ include CBT, DBT, family therapy, mindfulness techniques, meditation, exposure therapy, trauma therapy, and more.
Our goal is to make treatment accessible for everyone. That's why we offer convenient program schedules designed to help clients maintain their school or work routine. During the COVID-19 pandemic, we are also offering convenient telehealth services for new and existing clients.
If you or someone you love is struggling with a mental health or substance abuse disorder, treatment is available in your neighborhood. Follow Mission Harbor Behavioral Health on Nextdoor to learn more about our recovery programs in Santa Barbara.