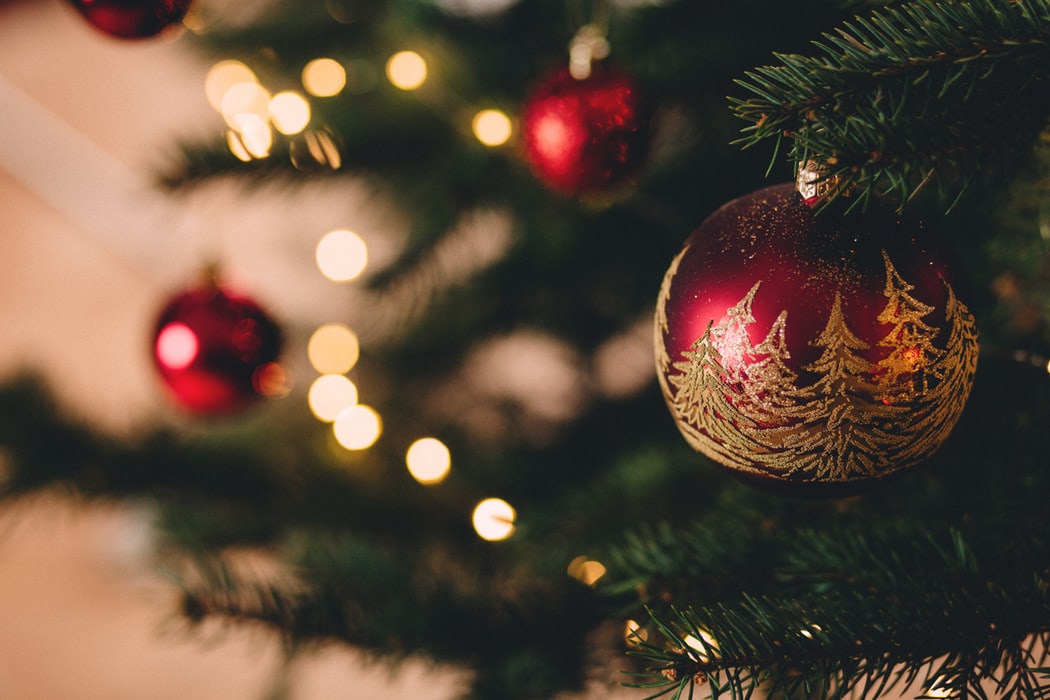 Another year has come and gone, and you know what that means — the holidays are upon us, and mocktails are a great way to celebrate while staying sober. If you're on a journey to sobriety or are simply avoiding alcohol, Christmas can be challenging if people around you are drinking. But this year, mocktails are making a huge splash, and it's the perfect time to take advantage of some great recipes. Here's a list of some of our favorite winter mocktails.
Holiday Punch
Punches are perfect for large groups because you can throw all the ingredients into a bowl and after a quick mix, it's ready to serve. We love this non-alcoholic version that gets its festive, vibrant red color from cranberries and raspberries. Here's what you'll need: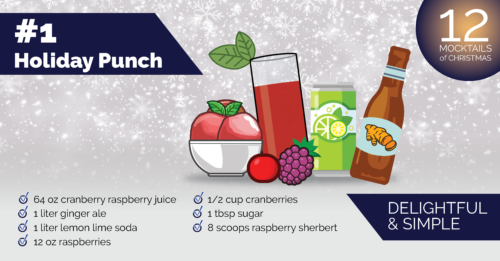 Start by chilling the juice, ginger ale, and soda overnight. Get out your food processor, and puree about 6oz of the fresh raspberries with the sugar. Put your raspberry mixture into a large bowl, and add in the juice and ginger ale, while stirring to combine. Finally, add the raspberry sherbert, fresh cranberries, and remaining raspberries. 
Rosemary Blackberry Mocktail
This mocktail tastes like Christmas in a glass, with notes of lemon and pine. Not to mention, rosemary sprigs make the best glass garnish. Here's what you need: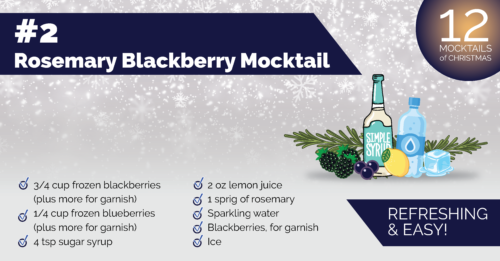 To start, put your frozen blackberries, blueberries and sugar syrup in a pot with just a bit of water. Turn your stove on medium-low, and simmer the mixture for about 15 minutes. Then, put the mixture into a blender and puree until smooth. Transfer the mixture into a sieve, and strain the seeds and pulpy bits out. Transfer to a bowl and let cool. Then, rinse out your blender and add the lemon juice and rosemary sprig, blending and straining as you did before. Prepare your glasses with crushed ice, pour in the lemon mixture, then top with sparkling water. Finally, pour the blackberry mixture on top, and garnish with remaining berries.
Pomegranate Mocktail
This mocktail is super easy and fast to put together, which requires only a few ingredients. It's cost-effective and is the perfect drink for serving a large group. Here's what you need: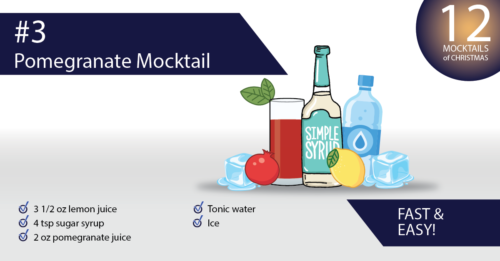 To make the pomegranate mocktail, simply combine the lemon juice, sugar syrup, and pomegranate juice into a large bowl and stir well. Then, pour the mixture into glasses over ice and top with tonic water. 
Shirley Ginger
The Shirley Temple has been a crowd-pleasing drink for decades, and we love them around the holiday season. The Shirley Ginger is a slightly more grown-up version of the Shirley Temple and is slightly less sweet than the traditional drink. Here's what you'll need: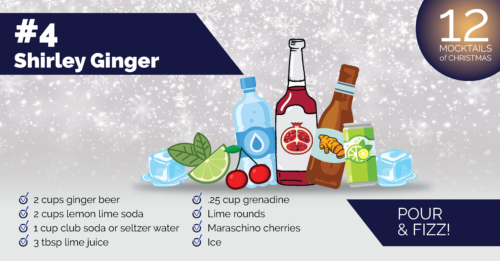 Just stir together the ginger beer, lemon-lime soda, club soda, lime juice, and grenadine into a large pitcher or bowl. Pour into individual glasses with ice, and top with lime rounds and maraschino cherries.
Mock Champagne
Many Christmas celebrations involve champagne, whether it's a toast before dinner, or a morning mimosa while opening presents. This non-alcoholic version looks and tastes just like the real thing, and it's perfect for both adults and kids at your party. Here are the ingredients you'll need: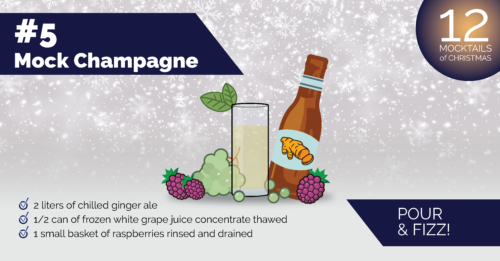 When you're ready to serve, combine all the ingredients into a large pitcher and stir well, until the juice concentrate is combined. Pour into your fancy glass of choice and say cheers!
Moscow Mule Mocktail
There's nothing quite like the cool, crisp taste of a Moscow mule around the holidays. We found a great recipe for a non-alcoholic Moscow mule that rivals the real thing. It's really simple, and you might even have the ingredients already in your home. Here's what you'll need: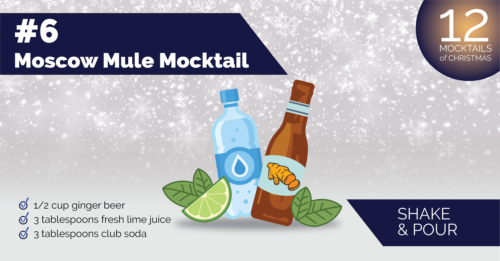 Mix together the three ingredients, and serve in a copper mug (or glass of your choice) with a good amount of crushed ice. Garnish with some fresh lime wedges and enjoy!
Nice Pear
We love this holiday-inspired mocktail with pear juice. The sweetness of the pear is balanced out by lemon and rosemary, making it just a bit more tart than you would expect. Here are the ingredients you'll need: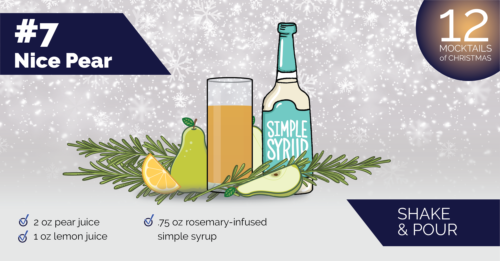 If you have one, get out your cocktail shaker and fill it with the pear juice, lemon juice, and rosemary-infused simple syrup, along with some ice. Strain the mixture into glasses with ice and top with soda water. Feel free to garnish with fresh pear slices or a fresh rosemary sprig.
Sparkling Cranberry Punch
Christmas and cranberries go hand-in-hand, and that's why we love this sparkling cranberry punch. The secret ingredient — pink lemonade — adds a bit of sweetness to the tart cranberry juice. Here's what you'll need: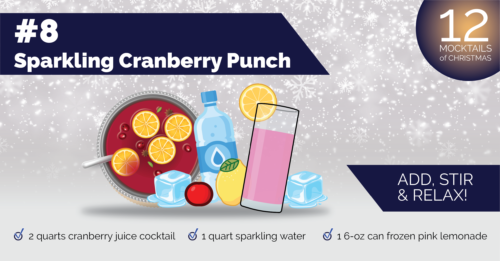 Grab a punch bowl or large container, and stir together the cranberry juice cocktail, sparkling water, and thawed pink lemonade concentrate. Combine well, and serve over ice.
Hot Buttered Spiced Cider
Hot cider is a hallmark of the winter, and it's the perfect treat to warm your bones on a chilly day. This hot buttered spiced cider is a rich and creamy drink that your guests will love as a post-Christmas dinner indulgence. Here's what you'll need: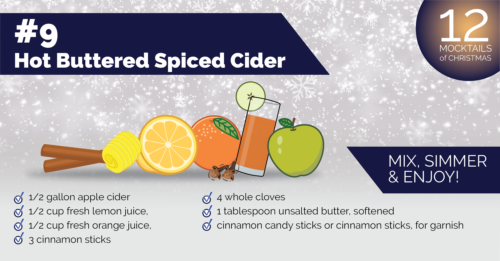 Combine the cider, lemon juice, orange juice, cinnamon sticks, zests, and cloves in a large pot. Simmer at medium heat for about 20 minutes. Make sure the mixture doesn't boil. Then, ladle the cider into mugs, leaving the cinnamon sticks, cloves, and zest in the pot. Add a small amount (roughly ½ tsp) of butter in each mug. 
Christmas Mocktail
As the name says, this mocktail is perfect around the holidays, with notes of orange and cranberry. The ingredients are easy to find at your local grocery store and can be purchased in bulk for larger crowds. Here's what you'll need: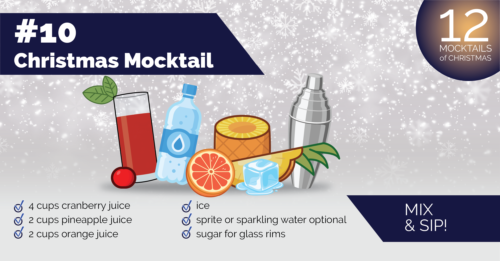 Combine the juices, ice, and sprite/seltzer water into a large bowl or pitcher. Dip the edges of your serving glasses into sugar, if desired. Then, simply pour the mixture into glasses and serve.
Cranberry Apple Crush
The cranberry apple crush is a crowd-pleaser, and with a variety of different spices, it's sure to be a hit at your next Christmas party. It has more ingredients than some other mocktails on our list, but you probably have most of them already in your pantry. Here's what you'll need: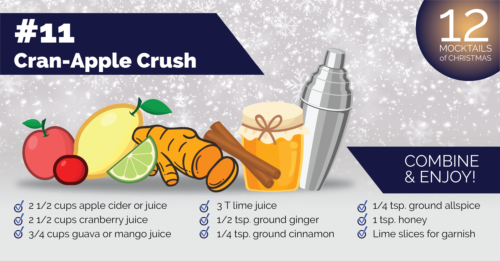 Combine the apple cider, cranberry juice, guava or mango nectar, lime juice, ground ginger, cinnamon, allspice, and honey in a large saucepan. Bring the mixture to a boil, then reduce the heat to low. Simmer for 5 minutes before pouring into glasses to serve.
Frost Bite Mocktail
This mocktail is deliciously refreshing, smooth, and crisp. With lemon-lime soda and white grape juice, this drink looks like the icicles hanging from your roof. Here's what you'll need: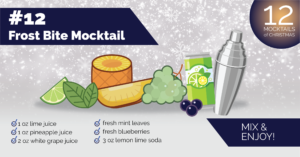 Grab your cocktail shaker, and fill with ice, lime juice, and pineapple juice. Shake to combine.  Then, add the white grape juice, mint, and blueberries. Use a muddler, or a spoon, to crush some of the blueberries. Shake all ingredients together and strain into ice-filled glasses. Top each glass with lemon-lime soda, and garnish with fresh blueberries.
The holidays should be a time filled with joy, gratitude, and appreciation. But for some people, the holidays are marked with stress and anxiety. If you're suffering from addiction or a mental health illness that's preventing you from enjoying time spent with friends and family, we're here to help. Learn about our treatment plans that are customized for every individual, so you can go into the holiday season feeling balanced, confident, and happy.